Can growth be climate-friendly?
For most of the world, degrowth is not a prospect. How can climate protection and development go together? An analysis in five steps.
An article by malene gurgen 
he climate crisis can have devastating consequences, this realization has meanwhile reached the majority of society in Germany. And political issues that had been a niche existence for many years have now made it into the general public, such as: Does the economy have to shrink in view of the climate crisis? The degrowth or post-growth movement proclaims: Green growth does not exist – we must consume less, produce less, emit less.
But the demand for an end to growth often has a gap: it lacks a global perspective. Shrink green or grow green, that is being discussed in Germany for Germany or in the USA for the USA . But the climate crisis doesn't care about national borders. The CO 2 budget can be calculated for individual countries, but ultimately there is only one: for the whole world.
Hardly anyone disputes that global greenhouse gas emissions must be reduced, and more so than previous political measures are already achieving. Global warming by an average of 2.7 degrees is currently likely . While that's better than the more than 4 degrees that the world would warm without any climate change policies, it's still a scenario in which billions of people will suffer from drought, floods, heat waves and famine.
For a large part of the world, hunger and poverty are not only possible future scenarios, but the bitter present. Countries like Germany or the USA, with high economic output and high CO 2 emissions , are the exception from a global perspective. Most countries in the world are poorer, they produce less – and emit less.
So what does it mean for the world when green shrinkage is called for because green growth is not possible? What does such a demand mean for a country like Gabon, where GDP per capita has fallen by more than 20 percent since 1990 ?
What does it mean for a country like Laos, where per capita economic output has quadrupled since 1990 , but per capita emissions have grown 23-fold over the same period ? Do countries that have hardly contributed to the climate crisis have a right to economic development, even if it is based on fossil fuels? And how much economic output is actually necessary for people to lead a dignified life, whether in Germany or Malawi?
To answer these questions, it is worth looking at the links between economic performance, greenhouse gas emissions and human well-being. Let's try it in five steps.
Step 1: The more economic output, the more emissions
If you want to compare something, you have to be able to measure it. For this reason, there are internationally recognized units of measurement for both economic output and greenhouse gas emissions that we are all familiar with. Economic output is measured as gross domestic product (GDP) , which means: For a certain period of time, for example a year, it is calculated what all goods and services that were produced in a country during this time are worth together. Inputs that are needed to produce other goods and services are not counted: the price of a finished chair counts. The price of a screw that was built into the chair is already included in the price of the chair and is not counted again.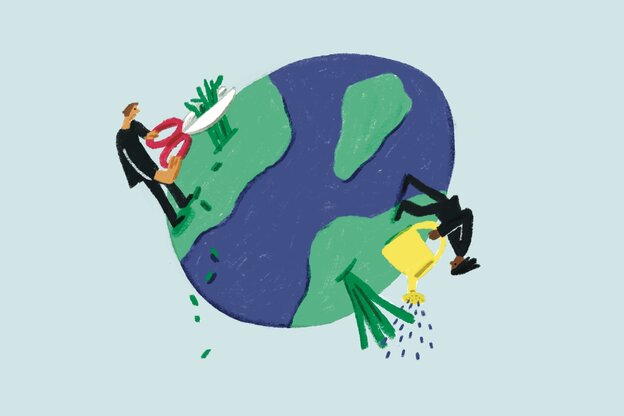 Greenhouse gases are components of the atmosphere. They ensure that part of the heat that the earth radiates does not disappear into space, but is radiated back to the earth and heats it up. Because these gases can absorb different amounts of heat and stay in the atmosphere for different lengths of time, each of them has a different global warming potential. This often makes calculations very complicated, which is why only the emissions of carbon dioxide (CO 2 ), the most common greenhouse gas, are considered.
When comparing countries, for both GDP and emissions, it is better to calculate these figures per capita so that the comparison is not skewed by the fact that one country has many more people than the other. In our graphic, the CO 2 emissions per capita are shown on the vertical axis and the gross domestic product per capita on the horizontal axis.
You can see a clear connection between the two factors: countries that are entered at the bottom, i.e. emit few greenhouse gases per capita, are also more on the left side of the chart, where GDP per capita is low.
If the connection between GDP and CO 2 were exactly the same in every country, all country points would be arranged exactly on a line. That's not the case, there are outliers on all sides. Ireland and Libya, for example, emit roughly the same amount of CO 2 per capita , although economic output in Ireland is significantly higher than in Libya. The trend is nevertheless clear: the more goods and services are produced, the more CO 2 or greenhouse gases are emitted.
But what does that mean for our initial questions? Shouldn't we then reduce economic output all over the world in order to reduce greenhouse gas emissions and thus global warming? To do this, we have to look at why economic performance is actually important.
Step 2: The higher the economic output, the greater the satisfaction
The gross domestic product is used to measure the economic performance of a country, we already had that. But GDP is often used as an indicator for other developments: how well a country is doing, how satisfied its residents can be.
There is a lot of criticism of this use of GDP, where more economic output is always considered better . After all, there are all sorts of factors that are important for a good life that are not included in GDP: for example, how fairly a country's income is distributed, how well its hospitals are organized, or how safe it is to go out on the street at night go.
In addition, unpaid work is not included in GDP and higher economic output does not always mean that people are better off economically. If the field on which a village has previously grown grain for its own use is sold to a company that cultivates cotton there to sell it elsewhere and pays the workers a starvation wage for it – then GDP increases, but the People from the village may be less cared for than before.
Some critics even go so far as to say that GDP says absolutely nothing about how good it is to live in a country. Then Bhutan is often taken as an example, one of the poorest countries in terms of GDP, but whose inhabitants are said to be the happiest in the world. However, this cannot be proven: although Bhutan is actually trying to record the happiness of its people with a specially developed index for "gross national happiness" , there are no comparative values ​​​​from other countries with which one could interpret these numbers.
Happiness, contentment, human well-being: Discussing how dependent or independent these factors are on a country's economic performance is complicated by the fact that they are not easy to measure at all.
There are statistics on how people rate their own life satisfaction on a scale from 1 to 10, but they are not without problems: I might give myself a 7 out of 10 for my life satisfaction today, but if I'm asked again tomorrow, if the When the sky is gray and my milk has just boiled over, it's only 5 out of 10. Societal and cultural differences, how we talk about happiness at all, can also influence our self-assessment. In addition, we are more likely to compare ourselves to our neighbors in the same country than to the whole world.
To measure human well-being, therefore, it is best to look both at self-reported life satisfaction and at factors that are easier and more objective to measure.
For example, if we start from human rights or the development goals of the UN , we can state that low child mortality, sufficient medical care or access to clean drinking water contribute to human well-being. The chance of a long life or the possibility of only having to work enough time to have free time are also indicators that can help us measure human well-being.
So if you put various of these factors in relation to gross domestic product, as we have already done with greenhouse gas emissions, then you can see a clear connection here too: the higher the GDP, the better the scores on our indicators for human well-being, whether life satisfaction, life expectancy or one of the others.
This does not mean that criticism of the one-dimensionality of GDP is unjustified. But we see that economic performance is not irrelevant for many of our well-being factors: In a country with a very low GDP, for example in Burundi , child mortality is higher, life expectancy and self-assessed life satisfaction are lower, access to education, medical care or clean drinking water is worse and the number of working hours per person is higher than in a country with higher economic output.
This is a problem for our initial questions. So shrinking the economy to reduce greenhouse gas emissions could make the population significantly worse off. In other words: With the economic output of Burundi, Germany would probably have similarly low greenhouse gas emissions, but also higher child mortality.
Now, however, no growth critic or climate protector claims that the poorest countries in the world should become the global benchmark.
If we assume, based on the calculations of the Intergovernmental Panel on Climate Change (IPCC) that the world has to stop emitting greenhouse gases for the 1.5 degree limit from around 2050 – a rather optimistic calculation that includes CO 2 -storing technologies – then everyone has man on earth until then a budget of about 3 tons per year. That is significantly less than the 8.1 tons that were consumed on average in Germany in 2021, but also significantly more than in Burundi, where per capita emissions in 2021 were only 0.06 tons . Still: 3 tons, that's less than the global average, which is more than 4 tons.
Step 3: More and more doesn't always make it better
For some countries, however, it is quite possible to reduce economic output without the population having to fare worse as a result. The strong link between economic performance and our well-being only applies up to a certain point. For example, the curve that shows the relationship between gross domestic product and life expectancy flattens out significantly from a GDP of around $40,000 per capita.
This means that if a country increases its economic output beyond this level, it hardly has any positive effects on life expectancy. The same applies to other indicators: Almost all countries manage to guarantee the entire population access to clean drinking water from a GDP of 20,000 dollars per capita , after which there is no further increase. From a GDP of around $50,000 per capita, people are no happier – on a self-assessment scale from 1 to 10 – if economic output continues to rise.
So more is not always better. In all countries that are above these thresholds, it would be possible to reduce economic output and thus greenhouse gas emissions without significantly reducing well-being. Germany, where GDP per capita was just over $51,000 in 2020 , is one such country.
It is unlikely that Germans would feel happier if Germany continued to increase its GDP. In the United States in 2003, people gave themselves an average of 7.5 out of 10 for their life satisfaction. At that time, GDP per capita was a good $54,000. In 2019 it had risen to just over $62,000, but the average life satisfaction had actually decreased somewhat to 6.9 points .
Couldn't it then perhaps be a sufficient solution to redistribute economic output globally? Would it be enough if all countries that produce more than is necessary for a good life give some of their economic output to the countries that are still below the threshold values ​​mentioned? So that the economy as a whole does not have to grow and global greenhouse gas emissions do not increase?
The answer is unfortunately: no. By comparing our indicators of human well-being, such as life expectancy, life satisfaction, infant mortality, or access to education, we can roughly conclude that the threshold at which higher GDP stops leading to a better life is around $35,000 per capita .
However, most countries are far from having achieved this: the global average GDP per capita in 2021 was a good 12,000 dollars . So even if rich countries were to shrink their economies, globally they would still have to grow if all countries were to achieve GDP per capita of 35,000.
One problem is that the economy has to grow in order to overcome poverty and hunger, high child mortality or a lack of access to education. Finally, we have seen that more economic growth also means more emissions. A very nice dilemma if we want both: create good living conditions for everyone and prevent the climate catastrophe. But there are also considerations that show possible solutions.
Step 4: Inequality breeds dissatisfaction
The threshold above which more economic output no longer means an even better life is a per capita gross domestic product of around $35,000. This assumption of ours is based on empirical data from real societies. If these companies were structured differently, this threshold could also be at a slightly lower GDP.
For example, if money were distributed more fairly. The question of how happiness and inequality are related is a hotly debated scientific topic because the topic is ideologically charged and the data on it is very complex . Every method of answering this question therefore also has its weaknesses. But most studies tend to show that greater inequality actually makes people less satisfied . It is therefore not only a question of the level of economic output, but also of how the wealth generated is used and distributed.
Step 5: The North must enable green growth for the South
One statistic in particular is encouraging. If we look at how global economic output and CO 2 emissions from fossil fuel industries have changed over the past 30 years, we can see how the two lines diverge more and more: While global economic output continues to grow strongly, the increase in CO 2 emissions slowed down in comparison. So more economic output no longer means more emissions to the same extent as was the case 30 years ago.
However, if you look at this development for individual countries, you can see that the extent of this decoupling varies greatly. It is mainly driven by industrialized countries such as Sweden and Great Britain . Thanks to the energy transition, it is possible in these countries to decouple economic performance and CO 2 emissions. In many other countries, economic growth is still mainly based on the use of fossil fuels. India, for example, is planning to burn significantly more coal than before in order to increase its economic output over the next few years.
It follows that there is only one way to reduce poverty in countries like India and at the same time prevent the climate catastrophe: decoupling, i.e. green economic growth based on renewable energies, must also be possible in these countries. You need money for that. It's true that climate catastrophe would be much more expensive than the energy transition, and it's true that renewable energy is cheaper than fossil fuels in the long run. But first of all, investments have to be made to switch to renewables, and that applies in Germany as well as in India.
Green growth in poor countries therefore requires money that these countries usually do not have. There is only a way out of this situation if rich countries help poor countries to pay for the energy transition. From a global justice perspective, that would only be logical, after all, it is the poor countries that have contributed the least to the climate crisis and are hardest hit by the consequences of the crisis. But how should the industrialized countries finance green growth if they have to reduce their own economic output.
This text comes from the Wochentaz . Our weekly newspaper from the left! Every week in the Wochentaz, the world is about how it is – and how it could be. A left-wing weekly newspaper with a voice, attitude and the special taz view of the world. Every Saturday new at the kiosk and of course by subscription .
There are certainly ways to do that. For example, a global debt haircut, as demanded by aid organizations , climate activists and development researchers for a long time : Rich countries should waive the debts of poor countries so that they have money for the energy transition and nature conservation instead of having to pay interest and repayments to rich countries. Germany, for example, could waive a billion euros in debt from Pakistan, a country that is already suffering from flood disasters and at the same time is in a deep debt crisis.
Revenue from a CO 2 tax could also be used to finance the switch to renewable energy in other countries. Even if only the richest people in the industrialized countries were to pay taxes on their enormous CO 2 consumption, a good sum would be raised: According to a recently published study , Great Britain alone would have earned more than 143 billion euros if there were a CO 2 tax for the top 1 percent of top earners.
Conclusion
A look at global conditions makes it clear: post-growth is an important impetus for countries like Germany. Because even if we succeed in decoupling economic growth and CO 2 emissions, there are other factors that make infinite growth impossible, for example the finite nature of material resources. Above all, however, more economic output in richer countries no longer means that people are better off.
For most of the world, however, stopping growth or even shrinking is not an option. Degrowth in Germany must therefore be expanded to include a perspective for climate-friendly global growth. For moral reasons and for reasons of justice. And also because otherwise there will be no solution to averting the climate crisis and overcoming poverty.