Raw material for green energy
Many raw materials are mined in developing countries, with devastating consequences for nature and people. Even more lithium, copper, cobalt and bauxite are needed for the energy transition. Can you win it responsibly?

In order to limit global warming to less than 2 degrees Celsius and if possible not to exceed 1.5 degrees, global greenhouse gas emissions must be reduced to zero by mid-century. Fossil energy carriers have to be replaced by renewable sources in order to generate electricity and heat for buildings and energy for the economy or for transport and traffic.
However, the focus must not be narrowed to reducing CO2 emissions. Many metallic raw materials are required for the energy transition, and their mining and processing are often the cause of the destruction of nature and the violation of human rights. If the energy transition is to be socio-ecologically sustainable, human rights and environmental due diligence must be observed throughout the value chain. The energy transition must go hand in hand with a raw material transition!
Where do the raw materials come from?
When it comes to the supply of metallic primary raw materials, Germany is almost completely dependent on imports. At the same time, Germany is the fifth largest consumer of metallic raw materials in the world. Mining has significant impacts on ecosystems, biodiversity and the climate. According to estimates by the consulting firm McKinsey, mining today causes 4 to 7 percent of global greenhouse gas emissions; The mining of seven key metals alone could cause around 9 percent of emissions by 2060.
In 2020, according to the Federal Institute for Geosciences and Natural Resources, Germany got 91 percent of its bauxite – the raw material for aluminum – from Guinea in West Africa, 35 percent of its iron ores came from Brazil, 26 percent of its copper from Peru, 40 percent of its zinc from Australia, 75 percent of the chromium from South Africa and 50 percent of the silver from Mexico. The countries of the European Union import lithium and cobalt mainly from Chile and the DR Congo, and rare earths almost exclusively from China. All these raw materials play a central role in the energy transition. The high demand makes mining countries and buyers like Germany increasingly dependent on each other. Countries in the Global South are being pushed into the role of raw material suppliers by means of trade agreements, for example, and are being thwarted in developing their own value chains.
The Ukraine war aggravated the raw material situation. Because Russia is not only an important supplier of coal, oil and gas, but also of nickel, titanium, iron ore products as well as aluminum and palladium. The farewell to fossil Russian energy sources must be an incentive for "more speed in the expansion of renewable energies and more progress in saving energy," asserts Federal Minister of Economics Robert Habeck. Substituting Russian raw materials from other countries such as Colombia or South Africa must not be at the expense of human rights and the environment.
Why are raw materials so important for the energy transition?
According to the German Raw Materials Agency, Germany needs 10.7 million tons of steel, 1.2 million tons of aluminum, 730 kilotons of copper and 600 kilotons of silicon in order to achieve its own goals for the expansion of photovoltaics by 2030. For wind turbines, this includes 9.5 million tons of steel, 1.5 million tons of cast iron, 450 kilotons of zinc, 160 kilotons of copper, 100 kilotons of aluminum and 5.5 kilotons of rare earths. And that is only the need in Germany. If global emissions are to be reduced to net zero by 2050, the International Energy Agency (IEA) forecasts that demand for copper could double by 2040, triple for nickel, quadruple for cobalt and quadruple for lithium.
This does not speak against the energy transition per se, but rather in favor of making it sustainable and globally fair. Because although wind power and photovoltaic systems consume more metals per megawatt generated than a fossil power plant, they do not burn any further raw materials after completion, the extraction of which violates human rights and pollutes the environment.
In order for countries in the Global South to be able to complete the energy transition, there needs to be a significant reduction in energy and raw material consumption in the Global North (see below). In addition, structures in politics and business that create poverty must be dismantled and knowledge and technologies shared. Only in this way will the global demand for raw materials not lead to an ecological crisis and destroy important ecosystems.
What are the effects of raw material extraction?
Due to the high demand for raw materials, mining is penetrating increasingly fragile ecosystems and the territories of indigenous peoples. The loss of biodiversity and the destruction of the livelihoods of these peoples are direct consequences; in order to protect the climate, the destruction of nature and violations of human rights are accepted. The organization Frontline Defenders documented 358 murders of human rights defenders last year. More than half of these were related to mines and the mining industry. Every fourth person killed belonged to an indigenous people, every fifth was a woman. The situation is particularly dramatic in Latin America. 138 human rights defenders were killed in Colombia alone, 42 in Mexico and 27 in Brazil. 
Due to the costs and social-ecological effects, mining in Germany has largely been stopped and mostly replaced by imports from countries with low environmental and social requirements. There, mining regions are among the poorest areas despite the abundance of raw materials. Residents are displaced, exposed to sexual violence and affected by health problems. Hardly any jobs are created for the local population and they cannot compensate for the damage to the water supply and agriculture.
There are many examples for this. In 2015, the tailings dam at an iron ore mine in Bento Rodriguez collapsed, killing 19 people. Toxic mining sludge made its way through one of the most species-rich rivers in Brazil, the Rio Dôce, to the Atlantic Ocean 800 kilometers away. Three years later, the dam of an iron ore mine in Brumadinho, a hundred kilometers away, broke. The breach of this dam, certified by Germany's TÜV Süd, killed 272 people and destroyed the livelihoods of many others. German banks still maintain business relationships with the responsible mining group VALE.
Affected communities around the world are increasingly demanding their rights to co-determination. In Boké, West African Guinea, 540 complainants from 13 towns have lodged a complaint with the World Bank alleging resettlement in connection with the expansion of the Sangaredi bauxite mine, the regeneration of agricultural land and the water supply as part of a mining project supported by the Bank, which disregards social and environmental standards became. However, a mediation process suspended due to the corona pandemic did not prevent the mining company from relocating more than a hundred households during the pandemic. The project is financed, among other things, by loans from the German ING DiBa and a subsidiary of the World Bank.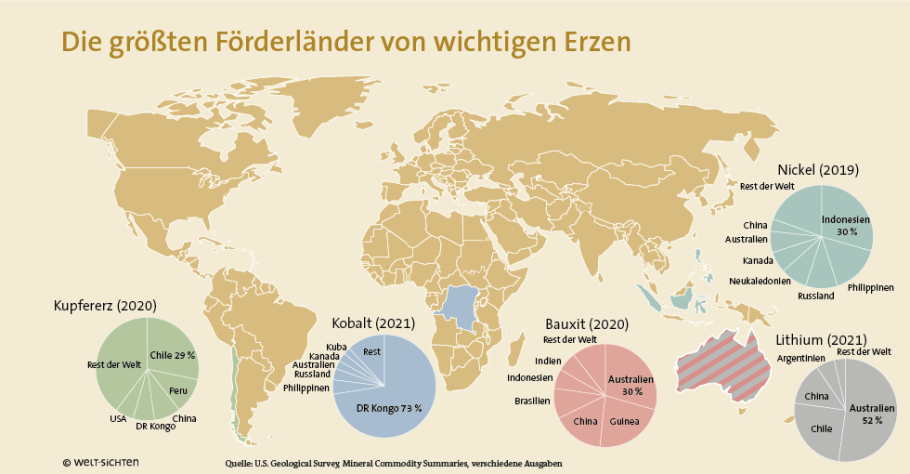 Many local communities are campaigning for alternatives to mining, for example in agriculture, in the protection of water and soil or of seeds and traditional plants. It's about the ecological production of coffee, local tourism, decentralized energy production, the manufacture of clothing or the further processing of agricultural products. Such alternatives are usually not purely economically oriented, but are based on social, ecological, cultural, i.e. immaterial, standards of value in order to enable a good life for everyone. They should satisfy basic needs and strengthen fundamental human rights. To this end, the communities are developing legislative proposals and demanding their rights to co-determination and prior consultation – as is currently the case in the capital of Ecuador in Quito,
Do mining countries and communities in the mining regions benefit from the extraction of raw materials?
A large part of the population in the mining regions benefits only to a very limited extent or not at all from mining. In Peru, mining accounts for around eight percent of gross domestic product, but tax breaks and tax refunds to companies reduce government revenues. In 2017, the Peruvian state paid back more money to companies than it took in taxes from them.
Those employed in Peru's mining sector make up less than 1.5 percent of the country's working population. However, the Ministry of Mining calculates up to 6 jobs per job in the mine, which are created indirectly through the extraction of raw materials. According to this calculation, mining creates up to 10 percent of the jobs in the country. For comparison: in agriculture it is over 24 percent. In addition, the calculations do not show how many jobs are lost due to contamination of water, soil and air, dried up sources, health problems or mining disasters.
Is mining of raw materials sustainable at all?
There is no sustainable extraction of raw materials; "Responsible" mining is also destructive. 200 tons of material are moved for one ton of copper; more than half of this ends up as waste, which poses a threat to soil, water and people. For gold, even less than a gram is extracted from a ton of dredged rock and extracted with toxic cyanide. It is mainly used for jewelry and bank reserves.
In fragile regions, ecosystems, plant and animal life have not regenerated even many years after a mine has been closed. Natural sources of drinking water are often replaced by artificial reservoirs that require maintenance long after mining has ceased. The storage of toxic residues in retention basins pose long-term hazards.
Mining companies can keep this damage as small as possible and focus production on areas with high metal concentrations. However, rising raw material prices are also making the mining of small concentrations lucrative. Mining with renewable energies and smart mining technologies to automate and digitize mining can reduce damage to people and the environment, but interference with the water balance and the destruction of ecosystems and indigenous sacred sites remain irreversible. The greenest mining isn't mining at all, so it must be about reducing consumption.
How can politics get a grip on the harmful consequences of resource extraction?
Germany must initiate a raw materials turnaround: The German raw materials strategy should be geared towards reducing consumption, respecting human rights and strengthening recycling and a circular economy. The federal government has committed itself to this in its coalition agreement, and Franziska Brantner, State Secretary of the Federal Ministry of Economics, has also emphasized the goal of "using fewer raw materials and recycling the used ones as much and as optimally as possible". To achieve this, ambitious collection and recycling quotas for products and raw materials must be introduced and climate-friendly recycling methods must be researched. A right to repair should be introduced and the longevity of products should be improved. An intelligent product design helps to remove individual parts,
A product passport facilitates tracking in the supply chain. In addition, binding human rights and environmental due diligence obligations must apply to all companies along the value chain and be backed up with grievance mechanisms, civil liability and sanctions. All of this should be improved in the German supply chain law and anchored at EU level and also in the so-called Binding Treaty on Business and Human Rights, which is being negotiated in the United Nations Human Rights Council. In this way, the same rules are created for all companies worldwide with the aim of ensuring the protection of human rights and nature.
In addition, zones that are taboo for mining must be identified in coordination with the communities in the mining countries. Examples are drinking water source areas, glaciers, areas with high biodiversity, important areas for climate protection, areas with endemic or endangered species and the deep sea.
Which areas are particularly important for the energy and raw material transition?
The automotive and construction sectors emit the most greenhouse gases and consume the most raw materials, which is why the savings can be particularly large here. One of the goals of a mobility turnaround is to reduce freight and private transport and make them climate-friendly. To do this, the infrastructure for walking, cycling and local public transport must be expanded; poorly connected regions should be developed.
At the same time, motorized private transport can be severely restricted in well-developed regions. Cars should be shared in the future. And contrary to today's trend towards SUVs, we have to switch to small, energy-saving cars. This requires appropriate state regulation and incentives that promote the switch to more climate-friendly mobility.
In this way, socio-ecological goals can be combined in the energy and raw materials transition and the protection of human rights and nature can be strengthened. The aim in Germany must be to respect the planetary boundaries. Products and raw materials whose mining and production violate human rights should not be available in Germany in the future.
works for the Catholic aid organization Misereor as a consultant for mining, ecology and human rights in Latin America.